3 Station Bolt Former BF-Series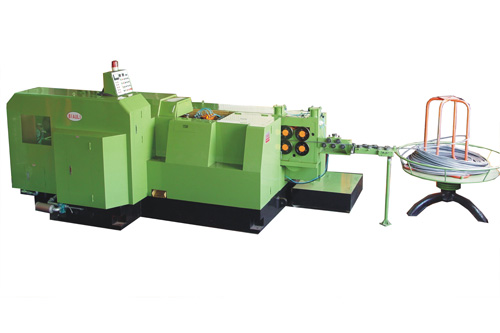 Specification
| | | | | | |
| --- | --- | --- | --- | --- | --- |
| SPECIFICATION MODEL | BF-7B3S | BF-10B3S | BF-13B3S | BF-13B3SL | BF-17B3S |
| FORGING STATION | 3 | 3 | 3 | 3 | 3 |
| CUT-OFF DIA(MAX)(MM) | 5 | 8 | 10 | 10 | 12 |
| CUT-OFF LENGTH(MAX)(MM) | 55 | 70 | 94 | 130 | 105 |
| KICK-OUT LENGTH(MAX)(MM) | 45 | 55 | 70 | 115 | 80 |
| PUNCH KICK-OUT LENGTH(MAX)(MM) | 10 | 12 | 16 | 30 | 20 |
| CUT-OFF QUILL (DIA x LENGTH)(MM) | 20 x 30 | 28 x 46 | 35 x 56 | 38 x 79 | 40 x 66 |
| MAIN DIE (DIA x LENGTH)(MM) | 38 x 60 | 50 x 65 | 60 x 85 | 70 x 135 | 70 x 95 |
| CENTER DISTANCE BETWEEN DIES(MM) | 48 | 60 | 87 | 87 | 93 |
| PUNCH HOLE (DIA x LENGTH)(MM) | 32 x 60 | 40 x77 | 45 x 87 | 45 x 111 | 50 x 102 |
| RAM STROKE(MM) | 100 | 120 | 140 | 200 | 160 |
| FORGING POWER(TON) | 15 | 20 | 40 | 50 | 70 |
| PRODUCTS | 3/16"(M4) | 1/4"(M6) | 5/16"(M8) | 5/16"(M8) | 3/8"(M10) |
| OUTPUT PCS/MINUTE(MAX) | 300 | 250 | 210 | 180 | 180 |
| MAIN MOTOR(HP) | 7 ½ | 10 | 15 | 20 | 20 |
| LUBRICATION MOTOR(HP) | 1 | 1 | 1 | 1 | 1 |
| COOLING MOTOR(HP) | 1/2 | 1/2 | 1/2 | 1/2 | 1/2 |
| LUBRICATION(L) | 120 | 120 | 180 | 180 | 200 |
| COOLANT(L) | 180 | 180 | 220 | 220 | 300 |
| APPROX.WT(KG) | 3500 | 6500 | 9000 | 13000 | 13000 |
| | | | | | |
| --- | --- | --- | --- | --- | --- |
| SPECIFICATION MODEL | BF-17B3SL | BF-17B3SUL | BF-19B3S | BF-19B3SXL | BF-19B3SUL |
| FORGING STATION | 3 | 3 | 3 | 3 | 3 |
| CUT-OFF DIA(MAX)(MM) | 12 | 12 | 15 | 15 | 15 |
| CUT-OFF LENGTH(MAX)(MM) | 180 | 350 | 140 | 240 | 350 |
| KICK-OUT LENGTH(MAX)(MM) | 175 | 310 | 105 | 230 | 310 |
| PUNCH KICK-OUT LENGTH(MAX)(MM) | 35 | 40 | 25 | 40 | 60 |
| CUT-OFF QUILL (DIA x LENGTH)(MM) | 40 x 80 | 40×100 | 46×80 | 46×80 | 65×110 |
| MAIN DIE (DIA x LENGTH)(MM) | 80 x 185 | 80×330 | 80×123 | 93×240 | 93×350 |
| CENTER DISTANCE BETWEEN DIES(MM) | 93 | 93 | 114 | 114 | 114 |
| PUNCH HOLE (DIA x LENGTH)(MM) | 50 x 132 | 50×200 | 60×121 | 60×200 | 65×192 |
| RAM STROKE(MM) | 250 | 460 | 200 | 340 | 460 |
| FORGING POWER(TON) | 75 | 80 | 100 | 120 | 160 |
| PRODUCTS | 3/8"(M10) | 3/8"(M10) | 1/2"(M12) | 1/2"(M12) | 1/2"(M12) |
| OUTPUT PCS/MINUTE(MAX) | 150 | 70 | 150 | 115 | 70 |
| MAIN MOTOR(HP) | 30 | 40 | 40 | 50 | 75 |
| LUBRICATION MOTOR(HP) | 1 | 1 | 1 | 2 | 2 |
| COOLING MOTOR(HP) | 1/2 | 1/2 | 1/2 | 1 | 1 |
| LUBRICATION(L) | 200 | 350 | 300 | 325 | 500 |
| COOLANT(L) | 300 | 450 | 400 | 450 | 600 |
| APPROX.WT(KG) | 18000 | 26500 | 20000 | 35000 | 43000 |
| | | | | |
| --- | --- | --- | --- | --- |
| SPECIFICATION MODEL | BF-24B3S | BF-30B3S | BF-36B3S | BF-50B3S |
| FORGING STATION | 3 | 3 | 3 | 3 |
| CUT-OFF DIA(MAX)(MM) | 18 | 23 | 29 | 44 |
| CUT-OFF LENGTH(MAX)(MM) | 185 | 260 | 260 | 380 |
| KICK-OUT LENGTH(MAX)(MM) | 175 | 220 | 220 | 360 |
| PUNCH KICK-OUT LENGTH(MAX)(MM) | 30 | 35 | 35 | 60 |
| CUT-OFF QUILL (DIA x LENGTH)(MM) | 60×100 | 75×120 | 90×140 | 138×165 |
| MAIN DIE (DIA x LENGTH)(MM) | 100×190 | 125×240 | 160×240 | 230×390 |
| CENTER DISTANCE BETWEEN DIES(MM) | 126 | 138 | 174 | 240 |
| PUNCH HOLE (DIA x LENGTH)(MM) | 75×185 | 90×197 | 105×197 | 146×245 |
| RAM STROKE(MM) | 280 | 360 | 360 | 520 |
| FORGING POWER(TON) | 160 | 220 | 320 | 800 |
| PRODUCTS | 5/8"(M16) | 3/4"(M20) | 1"(M24) | 1-1/2"(M36) |
| OUTPUT PCS/MINUTE(MAX) | 100 | 80 | 70 | 45 |
| MAIN MOTOR(HP) | 75 | 100 | 125 | 200 |
| LUBRICATION MOTOR(HP) | 2 | 2 | 2 | 2×2 |
| COOLING MOTOR(HP) | 1 | 1 | 1 | 1 |
| LUBRICATION(L) | 400 | 400 | 500 | 800 |
| COOLANT(L) | 500 | 500 | 600 | 800 |
| APPROX.WT(KG) | 43000 | 58000 | 66000 | 180000 |
* WE RESERVE THE RIGHT TO CHANGE THE DESIGNS & SPECIFICATIONS WITHOUT NOTICE.
Features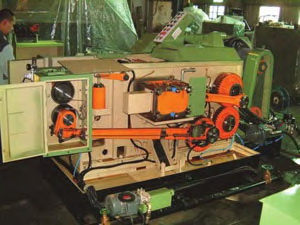 A.  BF-10B3S
FEEDING & CUT OFF MECHANISM:
Technical feeder to control the length of feeder is accurate & smooth, it helps feeder's gear last longer. S-Cam cut off is the same as the center line of main shaft, can bear more force.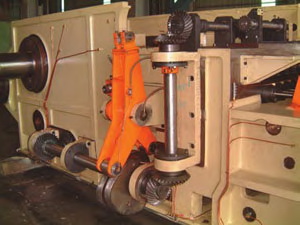 B.  BF-24B3S
TRANSFER MECHANISM:
The reciprocal motion of the finger is guided by both bevel gear and conjugate cam. (or single cam).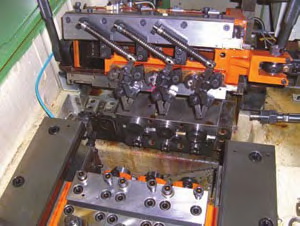 C.  BF-13B3S
TRANSFER FINGER MECHANISM:
Spring type transfer system to control the clamping motion will transfer the blank to each station steadily and precisely.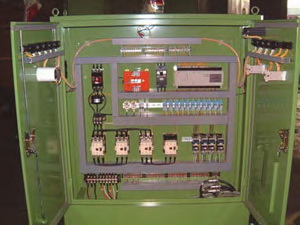 D.  BF-17B3S
P.L.C ELECTRICAL CONTROL:
All the electrical control and safety device are monitored by P.L.C(programmable logical control), so it's easy to maintain electrical system & revise logical control.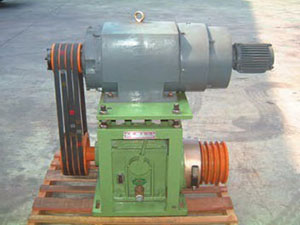 E.  TRANSMISSION MECHANISM:
4/8 (6) pole A-C main motor with 3 step gear box and it could provide total 6 different production speed. (total 6 step speed)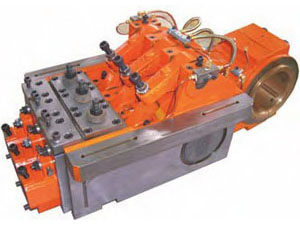 F.  BF-13B3S
MAIN SLIDE & P.K.O SYSTEM:
Easy in punch adjusting, also can be adjusted the timing of punch position forward or backward which is based on customer's need.
Product Samples